Slow down to Speed Up!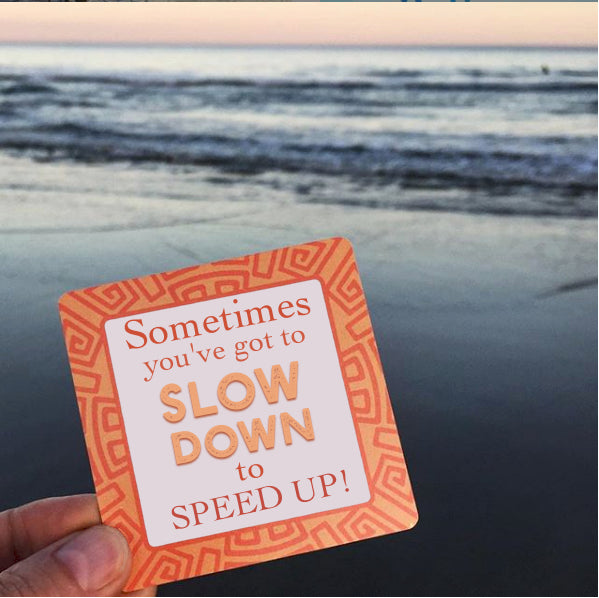 At times you must SLOW DOWN TO SPEED UP!
It doesn't make a lot of sense but it's the truth. You can't just keep going - hustling and pushing and living in the grind. ⁠
⁠
• You may find you're heading in the wrong direction -
only you find that out too late. You could have turned around a lot sooner - but you didn't look up - you kept your blinders on and your head down. ⁠

⁠
• In life lots of time that's what we're told:
Put in the work - keep going - however, if the energy of that thing is wrong - or its the wrong thing entirely, or perhaps the wrong timing, you'll be so distracted by running the race that you'll never realize:⁠

- you have no idea where the finish line is⁠
- that you missed the turn 10 miles back⁠
- the race has been over for days⁠
- you're running the wrong race⁠
- or...you created the race - it's all an illusion. ⁠

⁠
• Before any of that happens -
it's happened to me plenty of times - slow down. way down, to a crawl and then stop. It may feel uncomfortable but stay with it: Being busy can be a distraction. ⁠
⁠
Take a breather. ⁠
Get your bearings.⁠
Tap-in. ⁠
Ignore everything and see where you are. ⁠
All is good - let it all go. ⁠
See with new eyes - and ears. ⁠
⁠
• What do you feel pulled to do?
What's the energy of the moment telling you? NOT THINKING - but feeling the energy of the moment. Listen to it. Feel into it. ⁠
⁠
It may not make any sense but it's what you need to do now - and from there - check-in again. ⁠
⁠
• And as Martin Luther King Jr. once said :⁠
⁠
"Take the first step in faith. You don't have to see the whole staircase, just take the first step."⁠
⁠
That is alignment. 
⁠
Who's going to slow down enough to see the first step? ⁠
⁠
⁠