Adult coloring - Color your way to mindfulness, less stress and fun.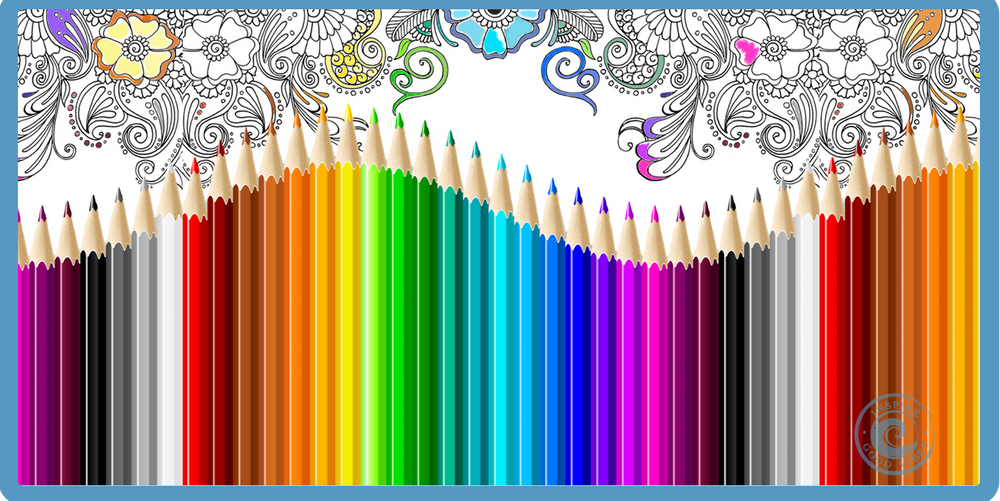 There's a new art craze out there and it's the adult coloring book!  Actually, it's been around for some time, doctors knew about the health benefits back in the 1900s. Psychiatrist Carl Jung, the founder of analytical psychology, prescribed coloring mandalas to calm his patients and center their minds. So you see, it's okay to join in the fun too!
Why is coloring so good for you?
• It reduces stress and anxiety.
I found an article on Huffington Post about using coloring to combat stress.  Psychologist Gloria Martínez Ayala says, "When coloring, we activate different areas of our two cerebral hemispheres. The action involves both logic, by which we color forms, and creativity, when mixing and matching colors. This incorporates the areas of the cerebral cortex involved in vision and fine motor skills. The relaxation that it provides lowers the activity of the amygdala, a basic part of our brain involved in controlling emotion that is affected by stress."

Basically, when we focus on this kind of activity we can relax into it, our thoughts are now with the activity rather than our worries.

Psychologist Luis Rojas Marcos says that "coloring comforts us, gives us peace, and lets us enjoy ourselves -- it even temporarily frees us from daily pressures... Although coloring a couple of hours does not eliminate all problems and worries, it takes us away and relieves us from the stress that overwhelms us." And New York-based clinical psychologist, Dr. Ben Michaelis said, "Because it's a centering activity, the amygdala, which is the part of the brain that is involved with our fear response, actually gets a bit, a little bit of a rest, and it ultimately has a really calming effect over time."
• It's relaxing and meditative.
Dr. Stan Rodski, a neuropsychologist, told Medical Daily, "that coloring elicits a relaxing mindset, similar to what you would achieve through meditation. Like meditation, coloring allows us to switch off our brains from other thoughts and focus on the moment. Tasks with predictable results, such as coloring or knitting, can often be calming"

Jennifer Goldberg interviewed Janis Timm-Bottos on this subject for her Best Health Blog. Janis is an associate professor of creative arts therapy at Concordia University in Montreal:  "Coloring as a practice is a type of meditation. The brain loves rhythm, and there's a rhythmic motion with your hand when you color. You're distracting your mind a bit by doing this rhythm, and it takes you out of the spiral of your problems and what you have to get done."


Clinical psychologist Kimberly Wulfert in EverydayHealth.com compares leisurely reading to coloring but points out that, "In coloring, you've got this physical sensation of the tool you're using that's touching on the paper. You also have the feeling in your hands and fingers holding this tool, and moving in different rhythms as you fill in the space. You're being mindful, and when you move in a rhythmic fashion for an extended period of time, that becomes a meditation."

"I recommend it as a relaxation technique," says psychologist Antoni Martínez, "We can use it to enter into a more creative, freer state... Let the color and the lines flow."

I find it's the perfect way to relax and unplug from the over-stimulation of life and the digital world. Listening to music while coloring is a great escape and I highly recommend it myself!


• It's a creative outlet and you can be social!
This is such a great way to be creative and not worry about having any artistic skills. Just find a coloring book or poster that you like and begin coloring. Friends of mine wanted posters so I created my own line of coloring posters instead.
You can bring a bit of your personality to the design through color. Just think, if you like how it turns out, you can frame it and hang something from you on your walls!
Johanna Basford's 2013 Secret Garden book sold nearly 1.5 million copies worldwide. Her latest, Enchanted Forest, came out in February. On her website, she has a coloring gallery where you can even submit your work!
Lisa Congdon's books are another big seller. She says, "I think for women who don't know how to draw or don't feel comfortable or confident drawing, this is another way to socialize and have an activity that they can do with other people … and because you don't need to concentrate very much when you're coloring in a coloring book, you can talk and have a glass of wine."


So go ahead and grab those colored pencils or call the girls, sip some wine, chat away and have some fun! Grab my "Inspirational Quotes Coloring Book" on Amazon to create even more good vibes.
Save
Save
Save
Or start coloring instantly with a few printable coloring pages with quotes! :)
Save
Sav
Save
Save